About The Japan Physical Precious Metals ETF ("Fruit of Gold"series)
Notes: Capitalized terms not defined otherwise in this section have the same meanings as defined in the prospectus of the Japan Physical Gold Exchange Traded Fund (hereinafter "Prospectus").
Basic Structure of the Trust
In 2010, MUTB launched the first precious metals based ETFs to use the Beneficiary Certificates Issuing Trusts mechanism, which was introduced in the amendment to the Trust Act in 2006.
Pursuant to the Trust Agreement between the Settlor (Mitsubishi Corporation) and the Trustee (MUTB) providing for the issuance of the Beneficial Interests, the Trustee will manage and dispose of the precious metals Bullion entrusted by the Settlor on the initial trust creation date (June 30, 2010) and upon the creation of additional trusts.
Schematic Diagram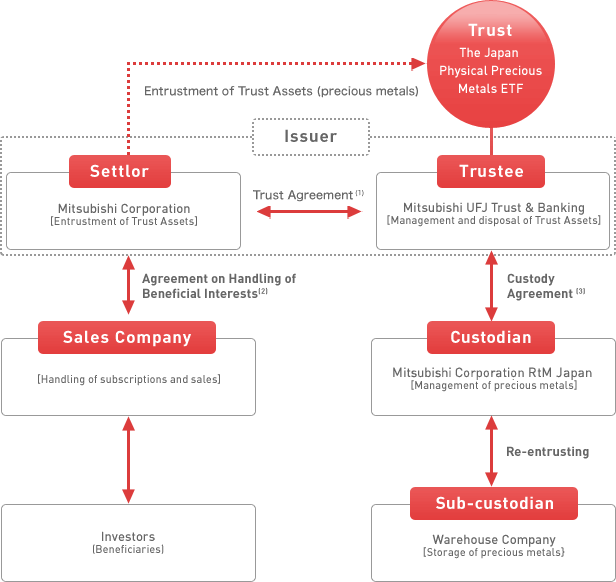 (1) Trust Agreement (between the Settlor and the Trustee): provides for matters concerning, among others, the management and disposal of the Trust Assets of the Trust, the rights and obligations of the Settlor, the Trustee and the Beneficiaries, and the method of handling of the Beneficiary Interests.

(2) Agreement on Handling of Beneficial Interests (between the Issuer and the sales companies):
provides for, among others, the method of handling the sale of the Beneficial Interests.

(3) Custody Agreement (between the Trustee and the Custodian): provides for, among others, the method of managing the precious metals Bullion, which constitutes part of the Trust Assets.